2nd day Hockey tournament organised by 1 st Sikh Li Match was played between Nowshera Hockey club Senior vs Nowshera Hockey club Junior on 14-05-2022 at Army ground kalsian Nsr ( Rajouri ) Nowshera Hockey club Senior won by 4-0 Today Final Match - Nowshera Hockey club Senior vs Nowshera higher secondary
Hockey tournament organised by 1st Sikh Li (6 in side ) Match was played between Nowshera higher secondary vs 1st Sikh Li on 13-05-2022 at Army ground kalsian Nowshera higher secondary won by 1-0 Today's match- Nowshera Hockey Senior vs Nowshera Hockey Junior
Army commander Brigadier NR Pandey interacted with the sub junior women hockey team of J&K. Army commander Brigadier Mr. N.R. Pandey interacted with the sub junior women hockey team of J&K at KK Hakku Hockey stadium Jammu. The team selected for 12th Hockey India Sub Junior National women Hockey Championship which is being held at Imphal in Manipur. Brigadier Pandey was accompanied by his family said that all possible help will be provided to the promising hockey players of Jammu and Kashmir. He said that hockey is being uplifted with missionary spirit in J&K under hockey J&K. Speaking on the occasion Mr. Rajeev Sharma President Hockey J&K said that national level coach is specially deputed by Hockey J&K for the camp and our team will definitely improve its performance. He further said that J&K Sports council under the leadership of Ms. Nuzhat Gul and we are thankful to her for her support. Dr. Taran singh General secretary Hockey J&K while speaking on the occasion thanked Mr. pandey for sparing his valuable time and his support will definitely encourage the budding hockey players.. He appreciated the discipline of the players those are present in the camp away from their homes . Mr. Ashok Singh Jamwal Divisional Sports Officer jammu, Mr. Satish Gupta Manager MA Stadium, Mr. Satpal singh Manger KK Hakku stadium was also present on this occasion. An exhibition night match was also played between junior men team and Army hockey team on the occasion. Ms. Anajali treasurer Hockey J&K, Rajinder Singh Kuku, Mr. Jagjit Singh coach,Ms. Priyanka Sudan ,Ms. Minakshi from poonch,Angat singh were also presentah
Training camp for 12th HI Junior Men National Championship Kovilapatti Tamil Nadu under progress at KK Hakku Stadium Jammu. Sponsored by J&K Sports Council organised by Hockey J&K
Hockey matches were played both boys and girls under 'My Youth My Pride' program being organised by JKSC.
In boys section match was played between Khelo India Hockey Centre Poonch and stadium XI match was won by KI Hockey Centre Poonch by 2-1 goals.
In girls section match was played between Sham Lal Hockey Club Poonch and Power House Hockey Club Poonch. SLHC won the match by 1-0 goal.

Today Resident secretary Hockey Jammu and Kashmir Priyanka Singh visit the ongoing project of field hockey astroturf at saheed Dysp manjeet singh memorial boys higher secondary school poonch and discuss about progress Report and quality work with Great sports Tech senior engineer Mr Nirdosh.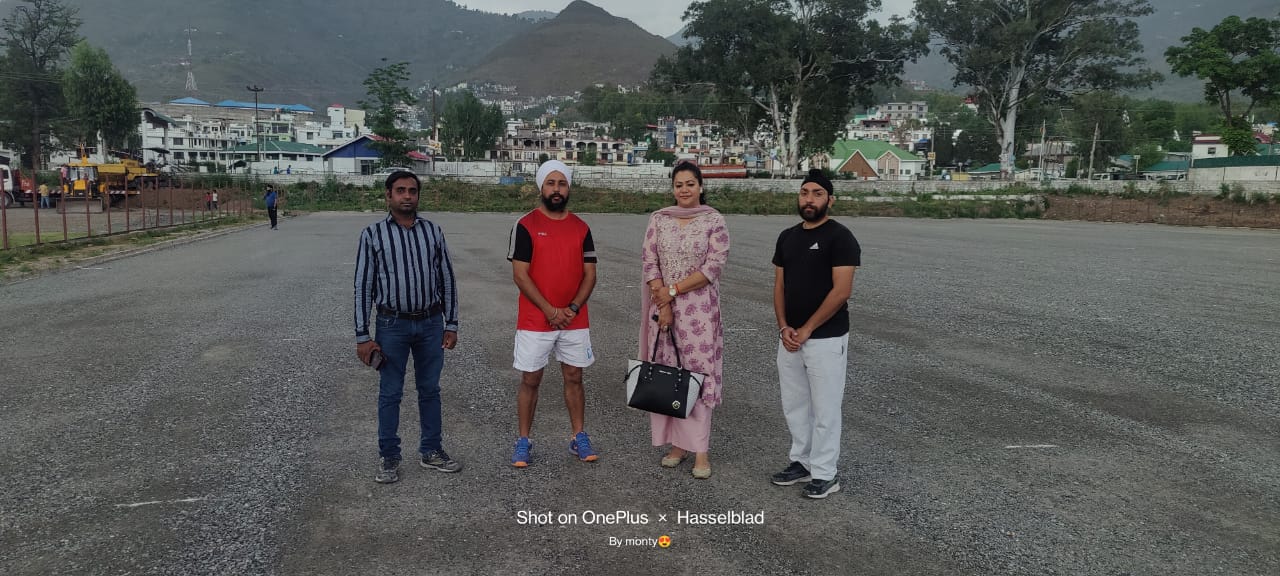 Mr Rajeev Sharma President Hockey J&K accompanied Mr Alok Kumar IRS Commissioner /Secretary Youth Services & Sports J&K Govt. Where Mr Alok Kumar inaugurated the My Youth My Pride program initiated by J&K sports council at MAM Stadium Jammu.
POONCH DISTRICT HOCKEY CHAMPIONSHIP BEGINS
Hockey poonch organised the District hockey championship for men's and women's at sports stadium Poonch sponsored by sports council and under the banner of Hockey Jammu and Kashmir . Mohd Qasim District youth services and sports officer poonch was the chief guest of the occasion while Nirdosh kumar incharge sports stadium Poonch was the guest of honour.
In the first match
Earlier the Augast Gathering was welcome by Priyanka Singh resident secretary of Hockey j&k
Today's resultSaheed Dysp manjeet singh beat stadium eleven by 2_1 .
In second match match shamlal hockey club beat Power House hockey club by 4_1
In mens section Baba Banda Singh bahadur hockey club beat stadium eleven by 3-1
The others dignitaries were present Manmoham singh,mohd mustaq boxing coach,sourab Sharma handball coach, neeraj sharma volleyball Coach,Mukesh Kumar PTI and Meenakshi khajuria, Rajinder Singh Taekvando Coach and navjot Singh hockey coach Match was officiated by Ranveet singh, Ramanjot Singh and kawaldeep Singh.
The tournament is going on under the technical supervision of Priyanka Singh residence secretary of hockey Jammu and Kashmir and Matinder pal Singh hockey coach.

District Udhampur Hockey Championship 2021-2022
Hockey J&K UT Senior Men Championship 2022; Jammu Kashmir Police wins Championship.
A total number of 20 teams are participating in the ongoing Hockey J&K UT Senior Men Championship In this championship 10 teams are participating from Kashmir Division out of total 20 teams. It is worth to mention here that this championship is being played under the supervision of national umpires accredited by Hockey India.
The Final match of the Hockey J&K UT Senior Men Championship -22 played between JKP and Jammu Central which was won by the highly professional JKP by a thin margin of 5 goals to 3 in match played at KK Hakku Astroturf Stadium Jammu which ended the Championship began on 15th March 2022.JKP which is a professional team and was given fierce competition by a team comprising of lesser known junior players from Jammu. JKP shown its best skills and during the match and used their experience . Jammu Central scored 2 early goals and took lead in the match stunning the star studded team of JKP. The 1st goal was scored by Gagandeep singh wearing jersey no. 13 by converting penalty corner into goal in the 9th minute of the game. Thereafter 2nd goal came from Satvir Singh wearing jersey no.16 which was a field goal. In the first quarter Jammu Central was leading by 2 goals from JKP. An equalizer came in the 24th minute by Pardeep singh wearing jersey no.14 which was afield goal. Thereafter Sarvant Singh captain of the JKP team scored 2 goals by converting Penalty corner into goal in the 28th and 29th minutes of game and shifted the game in favour of JKP.In 44th minute 3rd goal came from Gagandeep Singh of Jammu Central who converted Penalty corner into goal again putting stress on JKP. Thereafter Prabhjot Singh and The star player of JKP Jaspreet Singh jimmy wearing his favorite jersey no 10 scored 1 goal each in the 4th quarter of the match and JKP won the match by amargin of 5 gaols to 3 goals from Jammu Central.
Er. Gurmeet Singh Rtd Chief Engineer was the chief guest of the Final match. Speaking on the occasion he appreciated Hockey J&K which is under new leadership of Mr. Rajeev Sharma is doing best to promote the hockey > Mr. Rajeev Sharma announced cash prizes of 31000 and 21000 for winners and the runners up of the championship. Er. Gurmeet singh gave away the prizes to the winners and the runners up teams.
Tanveerul Haq, Brijesh Kumar,Mr. Salim Mr. Sunil all the officials from HI and Ms Anjali Thakur , Ms. Minakshi Khajuria officiated the matches.
Dr Taran Singh
Secretary General Hockey J K
Hockey J&K UT Senior Men Championship begin today.
Ms. Nuzhat gul Secretary J&K Sports Council today declared open Hockey J&K UT Senior Men Championship at KK Hakku Stadium Jammu in a impressive function. Hockey J&K organizing this championship every year which was missed in2021 due to conditions arisen of covid-19 pandemic . In this championship 10 teams are participating from Kashmir Division out of total 20 teams.
Opening ceremony of Hockey J &K UT Senior Men Hockey championship 2022 at KK Hakku Astrotruf hockey stadium Jammu . A total number of 20 teams from all over the UT are participating in this Championship. Ms Nuzhat Gul Secretary J &K Sports Council was the Chief Guest . 4 matches were played today between Anantnag V/s Rajouri which was won by Kulgam by 4 goals to 1, 2nd match played between Bandipora and Jammu west ,which was won by Jammu west by a margin of 1 goal to 7 goals. 3rd Match Played between Jammu University and Pulwama which was won by Jammu University 17 goals to 1. The 4th match played between Kathua and Kulgam which was won by Kathua by a margin of 21 goals to 0 .
In the inaugural function a good number of associaons were present. Speaking on the occasion Ms. Gul said that Hockey is picking up very fast both the divisions of J&K UT which is a good sign for the upcoming generations. She said that Khelo India project of GoI has taken up successfully and all the centers are expected to work as per expectations of Khelo India organization and the local public. She appreciated the role of President Hockey J&K Mr. Rajeev Sharma for his all out help in promoting sports in J&K UT specially Hockey Game. She assured all the sports associations that sports council will extend all possible help to promote sports. Mr. Riyaz Ahmad Aamn. Officer of JKSC was the guest of honour.Mr. Ashok Singh Jamwal Divisional Sports officers along with all the coaches and other staff was presenr prominently in the function.
Mr. Kuldip gupta of Kabbadi association, Mr. Zorawar singh of Team jammu, Mr. Atul gupta of Chess association also spoke on the occasion.
Tanveerul Haq,Brijesh Kumar,Mr. Salim Mr. Sunil all the officials fro HI and Ms Anjali Thakur officiated the matches.
Tomorrow's Fixture-
1st Match- Ganderbal v/s Srinagar-9.30 am
2nd match-Kupwara v/s Jammu East-11.30 am
3rd Match-Shopian v/s Udhampur-1.30 pm
4th Match –Budgam v/s Jammu south-3.30 pm
Venue- KK Hakku Astroturf Hockey Stadium
Dr Taran Singh Secretary General Hockey J K

In the opening day of the senior Hockey Tournament of District Rajouri held at Army Ground Nowshera organized by Hockey J&k (District Rajouri Unit) and sponsored by J&k Sports Council..
In the first match played today Nowshera senior Hockey club defeated shining star Hockey club by 4 Goals to nil
In the second match Nowshera eleven defeated Junior Hockey club Nowshera by 2=0
Sh Mangat Ram Sharma IPE0 (Lamberi) Department of youth Services and sports was chief Guest in the first Match
Sh Balbir Choudhary Range officer wild was chief guest in the second match
Sh Sita Ram Retired Sports officer was the chief guest of Honor During today's matches
Officials of the Matches were Sh Ravi Kumar choudhary (PET) and Sh Kuldeep Singh
Tournament is organized under the over all supervision of sh Amarjit singh ,Gourav Choudhary ,Romit Gupta and Anmol Sharma who are also the organizing secretary of the Tournament....
Ist District Kathua Senior Menz Hockey Championship Concludes
1st Distt. Kathua Senior Menz Hockey Championship 2021-22 concludes at Sports Stadium Kathua
More then 80 players in differents area of distt. Kathua are participatedil in the championship.
Final match was played between Hiranagar Hockey Club and Jasmergarh Hockey Club where Hiranagar Hockey Club won the match by the margin of 5-0. Three goal scored by Suraj Singh and two goals were scored by Sandeep Singh Match was officiated by Rohit Sharma, Harsh Dev Singh , Sarthak Verma
Chief Guest of the match was Satish Sharma (retd. Sai Coach) Distributed the prizes among the players and also appriciated the participants for the 1st Distt. Hockey championship Tournament is organised by the President of Hockey Jammu and Kashmir mr. Rajeev Sharma and Gen. Sec. Dr. Taran singh

Other prominent present in Championship was Satpal Singh (Manager sports stadium Kathua) Shakti Gupta (judo coach) Vinod kumar, Jyoti Naresh, Tilak Raj.

Tournament was inaugurated by Shelav Sharma (executive member of Hockey J&K)
Ist match was played between Hiranagar Hockey Club and Kathua Hockey Club where Hiranagar Hockey Club beat Kathua Hockey Club by 4-0 and 2nd match played between Jasmergarh Hockey Club Hiranagar and Aman Khalsa Hockey Club where Jasmergarh Hockey Club beat Aman Khalsa Hockey club by 6-4 Match were officiated by Nipun Sharma, Rohit Sharma, Suraj Singh Jasrotia and Harish Dev Singh
Shakti Gupta, Jyoti Naresh, Ratanpal , Tilak Raj , Sandeep Malgotra are also present there
---
---